SPECIALLY TUNED FOR WORDPRESS
WordPress web hosting is complicated. We've tried many, many providers & setups. Trust us, it's complicated.
Here's the bottom line: Our servers are faster, lighter, and more secure.
Host with us in confidence, so you can focus on your business.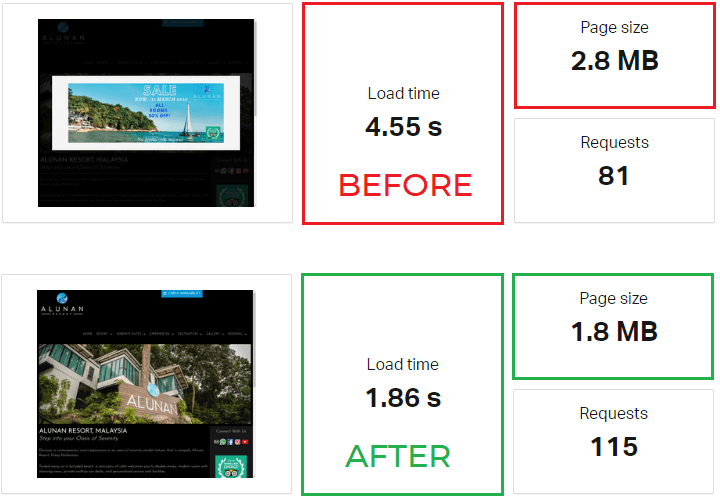 240% faster, 35% lighter, just by switching over to Pixl VPS!
It's just web hosting, what's the big deal?
When you're starting out, it's easy to just pick a plan and go with it. But when you want to go serious in your online growth, that's where things get really complicated. There are literally thousands of combinations of server providers and setups, and everyone claims they are fast and secure.
We've tried many hosting plans over our 10 years of experience building 100+ WordPress websites. We're tired of slow, underperforming, yet expensive web hosting plans that ultimately waste our time. So we built our own.
It took us a while to perfect the formula, but we're finally happy with what we have, and we'd like to offer it to you.
Features included in all plans
(Mouseover/tap for more information)
All our servers are specially tuned for WordPress, with a software stack that is hard to beat elsewhere.
Rest assured you're getting the best we have to offer. We use our own hosting and we're very impatient people 🙂
NOTICE
Thank you for your interest in Pixl Hosting. We are fully occupied with our current clients and will not be taking in any new clients for the foreseeable future. The below specs are for current clients' reference and renewals only, and are not meant for new subscriptions.

We highly recommend Serverfreak for Malaysian-based websites.
It depends. There are three types of email:
Transactional emails: These are automatic emails sent by the website, e.g. Lost Password, eCommerce Order Update, etc. These ARE included in your hosting via 3rd party services like Send in Blue or Mailpoet.


Traditional email: This refers to your regular email inbox for communication purposes. Traditional cPanel hosting includes this email as a self-hosted option together with your website. This practice is HIGHLY DISCOURAGED due to various safety reasons outlined in this article. We recommend GSuite for email at USD5/user/mo.


Marketing email: These refer to marketing newsletters and eDM campaigns, and are also NOT included in your hosting. We recommend using a marketing service provider such as Mailchimp or ActiveCampaign for this.
Why is control panel access not included?
This is a Managed Hosting service by Pixl for Pixl clients and should not be ordered as a standalone hosting service intended for self-management. 
Our VPS hosting system is controlled through one unified interface, which also controls backups, firewalls, SSL etc for all servers and sites. Rest assured that we are not using cPanel, Plesk, DirectAdmin, or other traditional software stacks that are built for reseller access. We definitely do not use the "unlimited addon domains" approach often used by freelancers and low-end hosting providers (those are outright dangerous) - our VPS plans are indeed truly Virtual Private Servers.
If your developer needs direct access to the server, we are happy to provide you with SFTP & SSH access to your files & database, by request. We can also provide root access to the server, with reasonable justification. 
Exception: Our Dedicated Server plan DOES include control panel and root access.
Why are domains not included?
Your domain is your single most important asset online, and should be registered and controlled by you, regardless if you're a one-person enterprise or a well-established corporation. We do not condone the freelancer practice of registering domains on your behalf - we've heard too many stories of businesses losing their domains for one reason or the other.
For Malaysian companies, we recommend registering your domain with Serverfreak. We have worked with them for many years and they have proven to be fast, reliable, sincere, and most importantly, technically capable.
For our international clients, we recommend GoDaddy due to their regular promotions and availability of 24/7 global phone support. However we do not recommend GoDaddy for any other service - this is a sentiment shared among most seasoned web designers & developers worldwide.
Once you have registered your domains, we will help you link them to your server.
We offer Secure FTP (SFTP) access for all VPS & Dedicated plans, by request only. There are some technical processes to be followed; this is not as straightforward as providing a hostname, username, and password for connection to FileZilla. Please ensure you or your developer is technically savvy before working with SFTP.
If all you need is a file system manager, we recommend the File Manager WordPress plugin for hassle-free access to your files. For security reasons, please remember to deactivate and/or delete the plugin after every use.
What counts as One Website?
Each instance of WordPress is counted as One Website. Staging sites, archived sites, and subdomains are all counted individually. 
What if I need more websites than my plan allows?
We impose website limits to maintain a speedy loading time for your website. Overloading your server will slow it down, defeating the whole purpose of having a VPS in the first place.
If you need more websites, we recommend upgrading your plan, or ordering another server. However, we allow overloading your server with more websites at your request, so long as you understand this will slow down the rest of your websites.
Your VPS specs are lower than other providers but cost more. Why?
Our CPUs are high-speed CPUs which cost more but perform better. The average VPS runs on 2.2GHz CPUs while ours are powered by 3.8GHz CPUs. There are other factors but we'll cover those in a blog post instead. 
In addition, remember that Pixl VPS is a managed service. Signing up for a commercial VPS means you have to manage the system on your own, or pay someone else for setup, configuration, and maintenance. It's not a two-click process.
Does switching to Pixl VPS mean I'll immediately get super speed?
You will see a definite improvement in your website speed, especially in your WP Admin. Expect to see snappier responses when loading pages and performing operations.
With that being said, although a good hosting server is key to having fast load speeds, it's only half the battle - the other half is your WordPress setup. We will be launching our WP Speedup service soon, so stay tuned!
Can I host other applications in my server?
Unfortunately our specialised WordPress setup means you will not be able to host other applications within the same server. 
Could you tell me more about the Pixl Starter hosting plan?
Pixl Starter hosting is designed for basic websites with static information, billed at RM400 per website per year.
Websites in this plan share a VPS 1 server with 63 other websites, with an allocation of 500MB high-speed SSD storage each. Please click here for more information.